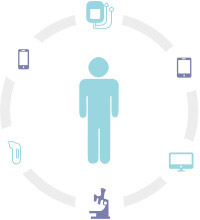 We develop technology driven healthcare solutions
Saviance Technologies is a global provider of Enterprise Technology Solutions for the US Healthcare Sector focusing on the latest technology SMAC stack (Social, Mobility, Analytics and Cloud). We provide innovative solutions and enable meaningful Use of IT by designing patient care & community portals, collaboration applications, big data insights for wellness & population health, ICD-10 resources and process automation.
Our clients are distinguished hospitals, healthcare institutions and manufacturers of consumer healthcare products. Saviance has enabled them to achieve critical objectives such as increased projects visibility across the organization, improved knowledge management, enhanced technological prowess, improved productivity, better return on investment and therefore the ability to make value-added business decisions.
Meaningful use of IT
Saviance, as a healthcare solutions company has come up with various solutions for healthcare providers in healthcare IT space. The company has launched its patient portal software which enables providers to make a connect with their patients, build health communities and enhance quality care and productivity. As a healthcare IT service provider, it offers services in designing effective Patient Engagement Portals which help providers achieve Meaningful Use of IT such as:
Integrates with Electronic Health Record (EHR)
Helps in total automation of office functions and a long-term reduction in administration staff
Supports multiple, simultaneous EMR/PM interface connections
Integrates with your website and digital marketing campaign
Improves patient retention rates while attracting new patients