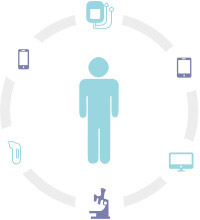 We develop technology driven innovative solutions
Saviance is a leading Healthcare IT firm focusing on Business - IT transformation towards a unanimous
goal – 'Encouraging Innovation'. With that goal in mind, Saviance has been consistently developing patient centric solutions around Digital Medicine, Patient Engagement, Patient Enrollment, Clinical Trials, R&D Analytics, Medication Adherence and emerging market initiatives including maximize the patient reported outcomes.
Saviance has been providing mHealth solutions using Mobile Applications (Native & Hybrid), Web Applications and Bots. Great User Experience and Design are key tenets of our innovation journey. It ensures that every solution that we build improves the overall customer experience and enjoys high levels of customer satisfaction.
Why Partner with Us?
Our clients are distinguished Pharmaceutical & Life Sciences organizations, hospitals, healthcare institutions and manufacturers of consumer healthcare products. Saviance has been leveraging technology and domain experience along with our bespoke frameworks and assets to craft solutions for next generation Pharma and Biotech R&D ecosystem using – Machine Learning, AI, Cognitive Computing, IOT, iBeacons, Advanced Analytics.
Our partnership offers an optimal combination of Omni-channel digital backbone (Mobility & Web2.0), Advance analytics & Big Data, cloud enablement, Lab informatics & IT transformation, cost effective platforms to ensure scalability, extensibility and better time-to-market.