Our Strenghts & Capabilities
We, at Saviance Technologies, have always endeavoured to achieve and maintain the trust of our clients, partners and employees. One of our most important guiding principles is to secure the confidence of these stakeholders and to deliver services that are impeccable at all times.
Recent Awards
Business Partnerships
Affiliations
Minority Business Enterprise (MBE)
Saviance Technologies is certified by the States of New York, New Jersey, as well as by Georgia, Houston and Dallas/Fort Worth as a Minority Business Enterprise (MBE). These certifications are awarded under the bigger umbrella of the National Minority Supplier Development Council (NMSDC).
The NMSDC has awarded Saviance Technologies this certification basis the products/services as defined by the North American Industry Classification System (NAICS). The NAICS codes for Saviance Technologies are 541511; 541512; 541612; 541613 and 561311.
The National Minority Supplier Development Council assures the consistent and identical review and certification of minority-owned businesses through standardized procedures. These businesses are certified by NMSDC's affiliate regional council nearest to the company's headquarters. A minority-owned business is defined as a for-profit enterprise, irrespective of size, physically located in the United States or its trust territories, which is owned, operated and controlled by minority group members.
Why MBE and SBE?
Small and Minority Businesses are necessary to preserve free competitive enterprise in any country. Corporates, as the flag bearers of social responsibility, today understand the need to foster diversity crucial for their relevancy and economic vitality. It is no longer just "the right thing" and sound public policy to do business with diversity suppliers. It is a strategic imperative.
Diversity-owned businesses contribute to over $1.4 trillion in sales to the US economy. Businesses must appropriately manage multicultural workforces and look for ways to become more inclusive in their work culture. They need to resemble the community they serve in order to provide its members with high quality customer service.
Diversity Business, the nations' leading multicultural B2B online portal, has consistently named Saviance as one of the top diversity-owned businesses. We promote diversity amongst our suppliers and are committed to making our work environment more robust and balanced. Saviance Technologies is registered with several companies in their Supplier Diversity Program and we encourage MBEs in the US to work with us as our Partners and Suppliers.
To learn more about how you can become our Partner/Supplier, please write to us at info@saviance.com
North American Industry Classification System (NAICS) Codes
The NMSDC has awarded Saviance Technologies the MBE certification basis the products/services as defined by the North American Industry Classification System (NAICS).
2007 NAICS US Code
Computer Systems Design and Related Services
Computer Systems Design and Related Services
Custom Computer Programming Services
Computer System Design Services
Computer Facilities Management Services
Other Computer Related Services
Management, Scientific, and Technical Consulting Services
Management Consulting Services
Administrative Management and General Management Consulting Services
Human Resource Consulting Services
Marketing Consulting Services
Process, Physical Distribution, and Logistics Consulting Services
Other Management Consulting Services
Employment Placement Agencies and Executive Search Services
Employment Placement Agencies
Professional and Management Development Training
Professional and Management Development Training
History & Milestone
The Saviance milestones are indicative of its growth as an organization and as a unit of people who are committed to achieving the company's common objectives. The Saviance milestones are not just dates in the past but are strong signs of the progress we have made in the past 15 years as an organization dedicated to adding value to our clients, partners and employees.
Platinum Sponsor at the Houston Minority Supplier Development Council Expo
Awarded as Top Business 2014 by DiversityBusiness.com
Launches Patient Tablet - patient engagement software
Launches iHealthConnect - patient portal for wellness
Becomes member of the mHealth Alliance
Partner at the National Health IT Week, Washington DC
Becomes Gold Corporate Member with HIMSS
Recognized as a leading technology company by Deloitte Technology Fast 500
Selected as one of the Fast 50 Asian American Businesses by USPAACC
Saviance Global Development Center opened at Houston, US
Bronze Sponsor of Wharton Healthcare Conference in Philadelphia
Accredited as Consulting and Technology Partner by Amazon Web Services
Accredited as Microsoft Partner
Employee strength crosses the 100 mark
Establishes Saviance Centre of Excellence for Software Development
Saviance receives ISO certification
Saviance Technologies begins operations in New Jersey, US
Our Team
The success of any organization is determined by the think tank that drives the organization towards the collective goal. With a combined experience of over 250 years in the field of healthcare, technology and innovation, the team at Saviance is our core strength. Their vision for Saviance helps the different teams at Saviance work cohesively which in turn helps them define and successfully charter a progressive path.
The high levels of motivation amongst our teams to evolve with the rapidly changing technology scenarios is a result of the fast pace set by the Key Management Team, the Advisory Board and the Board of Directors. Educated at Wharton, FMS, IIT and Harvard, and work experience with Wipro, IBM, Fujitsu and Hewlett Packard, our top management are dedicated professionals who bring in immense experience, sound knowledge and a proven track record to the table.
Why choose Saviance?
Global, innovative, research-oriented, technologically advanced and professional are just some of the phrases that define our savvy organization. We truly believe in enabling our clients to win and grow. Our people, our resources and our technology unlock the potential of each client which enables them to reach new planes of success.
Talent Focused
With a focus on attracting and retaining top notch talent, we invest in professionally qualified employees and develop them further through our learning and development programs as well as professional certifications. Our initiatives in developing Domain Expertise, the Employee Stock Option Program and Saviance Alumni network enable us to retain and develop our talent in the most optimized way.
Dream Team
The top management at Saviance is a unique combination of great business sense and thorough insight into the IT domain. They have worked with each other in top companies such as IBM, HP, Cognizant, Wipro and Sapient to name a few. Being the alumni of renowned educational institutions like Harvard Business School, The Wharton School and IIT, our team is a most enviable asset.
Research Oriented
Passionate about research and innovation, we have our Global Development Center and possess our own IP in products and expertise in selected frameworks that enables us to offer innovative solutions to our clients. We take the productized approach to application development and focus on user Centric Design and Development and utilization of HEART framework for driving adoption of the software products and applications used by our clients.
Global Outlook
With a well-established presence in the US, we are an organization with global ambitions. Saviance is a certified Minority Business Enterprise with an advantage of special contracts with Federal/Government agencies as well as Fortune 1000 Companies.
Industry Focused
With a long term strategic focus in Healthcare, Saviance is a leading IT partner to various organizations. We have entrenched ourselves firmly in this industry by working exclusively with companies in this domains. This approach has equipped us with a unique skill-set that is hard to match.
Principled & Ethical
Saviance is proud to be an organization that has its foundation built on strong principles and high ethics. We expect all our team members to subscribe to our guiding principles such as integrity, mutual respect, excellence, teamwork, innovation and trust.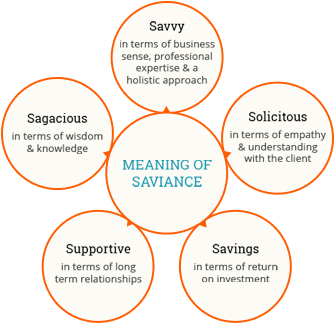 Mission
Our mission is to help our clients win and grow by putting in place solutions that ensure a continuous cycle of improvement in processes and business functions. We, at Saviance endeavour to solve our customers' problems by innovative and strategic enterprise technology solutions, products and services.
Vision
Saviance is in the business of solving customers' problems by innovative and strategic enterprise technology solutions, products and services.
We will do this by:
Harnessing the power of cloud computing and providing access on mobile devices
Specializing in the domain knowledge of the Healthcare industry
Providing top quality after sales implementation support and service
Helping our clients win and grow by realizing their return on investment